October 6th Gameday
OGC is proud to announce a one day mini-con that will take place in Londonderry, NH at the Londonderry Senior Center.
Date
October 6th, 2018
Doors Open  at 8AM, first game starts at 9 AM.
Slot 1: 9 AM to 1 PM
Slot 2: 2 PM to 6 PM
Slot 3: 7PM to 11 PM
Location
Londonderry Senior Center
535 Mammoth Rd, Londonderry, NH 03053
Price will be $20 for the day and includes two slices of pizza and a drink for dinner.  You can pay at the door or online.
Click here for a list of events.
Thanks for a Great Convention
Thanks to everyone who helped make OGC an excellent convention this year.  We are already prepping for next year.
July 20, 21, and 22, 2018
Holiday Inn, Nashua NH
Open Gaming Convention (OGC)  is an annual gaming convention whose goal is to have fun, play exciting and imaginative games for all.  Every year we bring over 100 role playing, miniature, and board games to Nashua, NH.  We are just over the border from Massachusetts, about 30 minutes from Boston.
For those moments between games, you can browse our vendor room or try your hand at our painting corner.
Paypal is Live
You can use Paypal to pay for the convention, if you want.  When you do so, you can sign up on Warhorn (if playing Pathfinder Society or Adventures League) or send your event picks to john.sussenberger@gmail.com
One Month Left!
With only one month remaining and all our GMs are furiously putting their games together, you the players still have time to get your registrations in.   Lisa, Kelly and I are looking forward to seeing everyone near the end of July.
Update (May 28th)
Our events page is starting to fill up, you can see what is running here.
OGC is still accepting event registrations, which can be submitted here.
Events
If you're interested in running an event at OGC or are a vendor interested in advertising or setting up a booth, visit our registration forms page to download the appropriate form or use the newly updated online event submission form.
Pre-registration

If you wish to preregister for OGC, you can fill out this form and mail it to:
Open Gaming Convention 2018
Attn: John Sussenberger
5 Harvey Road
Londonderry, NH 03053
If you include an email address AND its legible, we will notify you when your preregistration has arrived.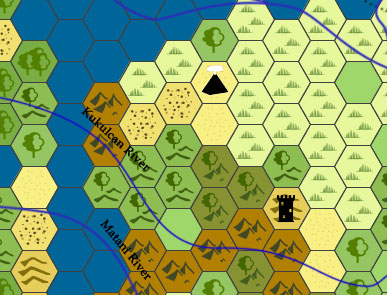 Form received before July 15th, 2018.
3-Day Admission – $50 (adult)/$40 (under 16)
2-Day Admission – $45 (adult)/$35 (under 16)
1 -Day Admission – $35 (adult)/$30 (under 16)
Registration at the Door
3-Day Admission – $60 (adult)/$50 (under 16)
2-Day Admission – $55 (adult)/$45 (under 16)
1 -Day Admission – $45 (adult)/$40 (under 16)
Holiday Inn Hotels & Suites
9 Northeastern Blvd., Nashua, NH 03062
Harassment Policy
Even though OGC (Open Gaming Convention) is a small convention, we want it to be enjoyable by all.  With that said, there has been a large discussion of harassment at gaming conventions and Lisa and I feel that we need to write down our policy for others to see.  We want everyone, regardless of gender, sexual orientation, disability, physical appearance, body size, race, religion or affiliation to be able to attend our convention and have fun.  We won't tolerate harassment of our convention attendees and game masters in any way.
All of the following constitute grounds for expulsion from the convention without refund:
Violating any federal, state, or local laws, facility rules or convention policies
Failure to comply with the instructions of OGC Event Staff (Lisa, John or Kelly)
Using anything in a threatening or destructive manner against person or property
Endangering the safety of oneself or others
Threatening, stealing, cheating or harassing others
Failure to conduct oneself in an age appropriate manner
If you experience or witness any of the above, please find Lisa, John or Kelly and let us know immediately.
Questions, Suggestions, etc.
Just email us with any questions or suggestions that you might have at john.sussenberger@gmail.com